Embark on an extraordinary journey of discovery and unravel the captivating allure of the Land Down Under with our exhilarating travel package, "Discover Australia"! Prepare to be enchanted by the diverse landscapes, vibrant cities, and iconic landmarks that await you in this magnificent country, as you delve into an immersive exploration of its cultural heritage, natural wonders, and thrilling experiences that will leave you breathless with awe and excitement. From the bustling city streets of Sydney to the majestic peaks of the Blue Mountains, from the cultural treasures of Canberra to the cosmopolitan charm of Melbourne, each day of your adventure will unveil new dimensions of Australia's beauty and charm, creating memories that will last a lifetime. Get ready to immerse yourself in the vibrant tapestry of Australian culture, be mesmerized by breathtaking vistas, and forge unforgettable connections with the warm-hearted locals as you embark on the journey of a lifetime with our extraordinary "Discover Australia" travel package.
Day 1 sets the stage for your Australian adventure as you arrive in the dazzling city of Sydney. Our friendly tour guide will warmly welcome you and whisk you away on a Sydney City Tour, where you'll marvel at the architectural masterpiece of the Opera House and the majestic Harbour Bridge. Immerse yourself in the natural beauty of Mrs. Macquarie's Chair and the Royal Botanic Garden. As the day draws to a close, indulge in a Magistric Buffet Dinner Cruise, where you'll dine in style while admiring the enchanting city skyline.
Day 2 - BLUE MOUNTAIN/ HOMEBUSH BAY/ DFO SHOPPING
Day 2 takes you on a breathtaking journey to the World Heritage-listed Blue Mountains. Witness the awe-inspiring Three Sisters Rock Formation and embrace the beauty of the Scenic World, where you can choose to ride the Scenic Railway, Skyway, or Cableway for unparalleled views. Immerse yourself in the wonders of Featherdale Wildlife Park and get up close to Australia's unique wildlife.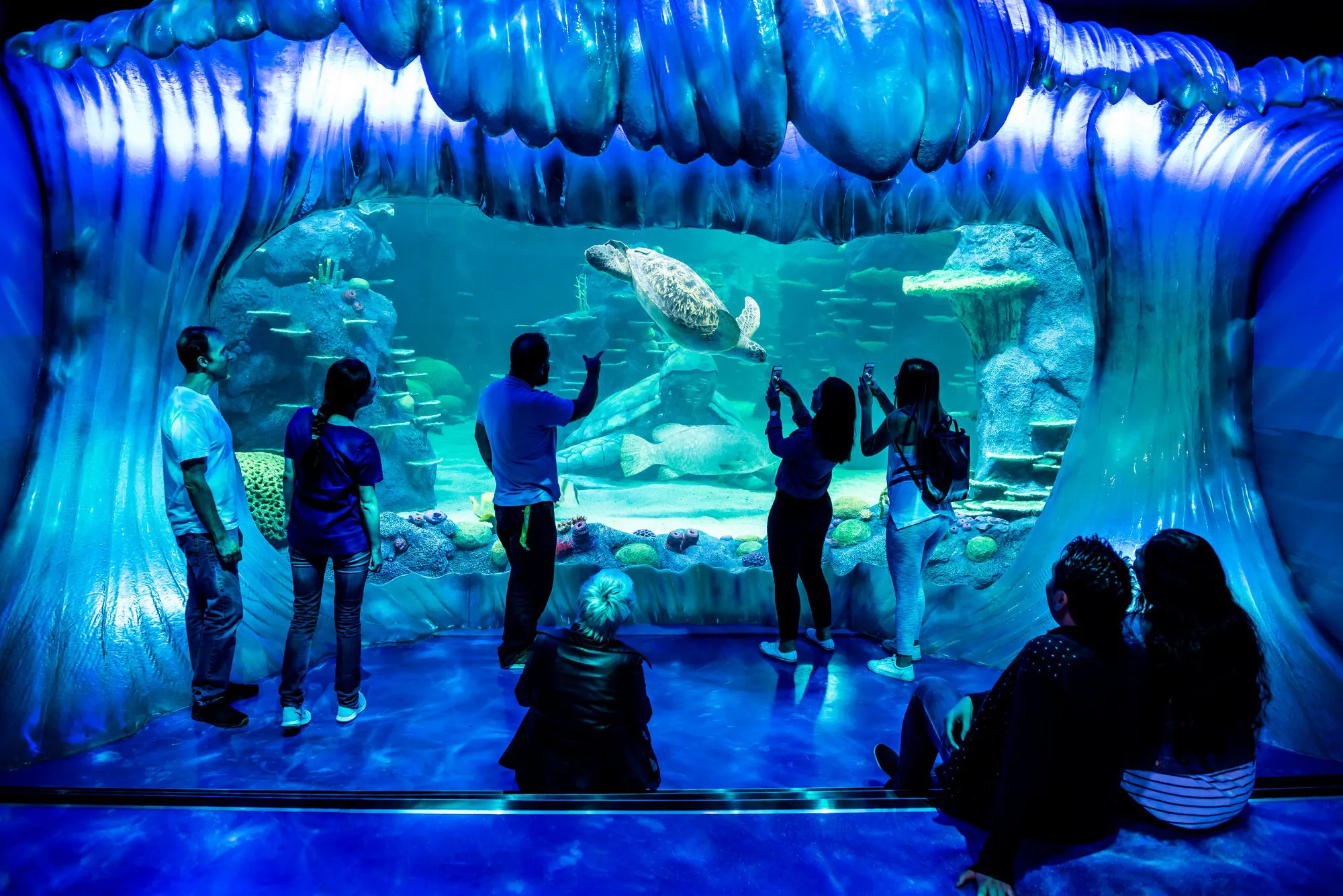 Day 3 - SEA LIFE AQUARIUM & MADAME TUSSAUDS/ BIRKENHEAD FACTORY OUTLET
On Day 3, dive into an aquatic adventure as you explore the Sealife Aquarium and come face to face with mesmerizing marine creatures. Step into the world of celebrities at Madame Tussauds Sydney, where lifelike wax figures will leave you starstruck. Indulge in retail therapy at Birkenhead Factory Outlet, where you can discover fantastic deals on your favorite brands. 
Day 4 - SYDNEY TO CANBERRA
Day 4 takes you on a scenic drive to the capital city of Canberra. Immerse yourself in the history and culture of Australia as you embark on a city tour. Marvel at the panoramic views from Mount Ainslie, visit the iconic Parliament House, and pay homage to the fallen heroes at the Australian War Memorial. Explore the charming suburb of Yarralumla before settling into your hotel for a restful evening.
Day 5 - CANBERRA TO MELBOURNE
Day 5 sees you journey from Canberra to the vibrant city of Melbourne. Along the way, enjoy lunch at picturesque stops, savoring the flavors of the region. Upon arrival in Melbourne, check into your hotel before indulging in a delectable buffet dinner at a local restaurant.
Day 6 - MELBOURNE CITY TOUR
Day 6 invites you to uncover the treasures of Melbourne on a captivating city tour. Immerse yourself in the vibrant atmosphere of the Italian Hub of Lygon Street, visit Melbourne University, and admire the grandeur of the Royal Exhibition Buildings and Museum. Marvel at Melbourne's Parliament House and the iconic Princess Theatre. Capture picture-perfect moments at St. Patrick's Catholic Cathedral and explore the charming Captain Cook's Cottage and Fitzroy Gardens. Allow the beauty of East Melbourne, Flinders Street Station, Federation Square, and the colorful laneways of Hosier Lane and ACDC Lane to ignite your sense of adventure. 
Day 7 takes you on an unforgettable snow-filled experience at Mt. Buller. Enjoy thrilling tobogganing adventures, wander through the picturesque Yarra Valley, and explore the charming town of Mansfield. Embrace the snow-capped beauty of Mount Buller Alpine Resort during a 5-hour snow day tour, creating memories that will last a lifetime.
Day 8 - BRIGHTON BEACH 1 DFO SHOPPING
Day 8 brings you to the iconic Brighton Beach, where you can marvel at the vibrant Brighton Boxes against the backdrop of Melbourne's skyline. Indulge in some retail therapy at DFO Factory Outlet, where you can find fantastic bargains on renowned brands. Bid farewell to Melbourne as you transfer to the airport for your departure, carrying cherished memories of your Australian escapade.
On Day 9, as you arrive back in Manila, reflect upon the unforgettable experiences and breathtaking moments you encountered during your Sydney-Canberra-Melbourne adventure. Home sweet home, but forever touched