Embrace the enchantment and embrace the frost-kissed beauty of Korea with our extraordinary travel package, "A Frosty Winter in Korea." Step into a realm where shimmering snow blankets the landscapes, where each breath reveals a wisp of icy allure, and where the magic of winter weaves its spell around you. Prepare for an immersive journey that will transport you to a wonderland of snow-dusted mountains, captivating cityscapes, and cultural treasures that come alive in the crisp winter air. From the moment you set foot in Incheon Airport, a gateway to this wintry paradise, you'll embark on an unforgettable adventure that will awaken your senses and leave you with cherished memories to warm your heart for a lifetime. So, bundle up, embrace the chill, and let the frosty wonders of Korea unfold before your eyes as you embark on "A Frosty Winter in Korea."
Day 1 - ARRIVAL IN INCHEON
Day 1 marks the beginning of your adventure as you arrive at Incheon Airport, where our knowledgeable tour guide will be waiting to welcome you. Feel the excitement build as you transfer to your cozy hotel in Incheon, ready to embrace the frosty wonders that lie ahead.
Day 2 - INCHEON/ MT. SEORAK
On Day 2, immerse yourself in the mesmerizing beauty of Nami Island, the iconic shooting location of the beloved drama "Winter Sonata." Let the wintry ambiance ignite your imagination as you explore this scenic paradise. Next, prepare for an awe-inspiring experience as you ascend Mt. Seorak National Park, gliding through the snow-covered peaks on a thrilling cable car ride. Your night will be spent in a comfortable hotel, surrounded by the serene charm of Mt. Seorak.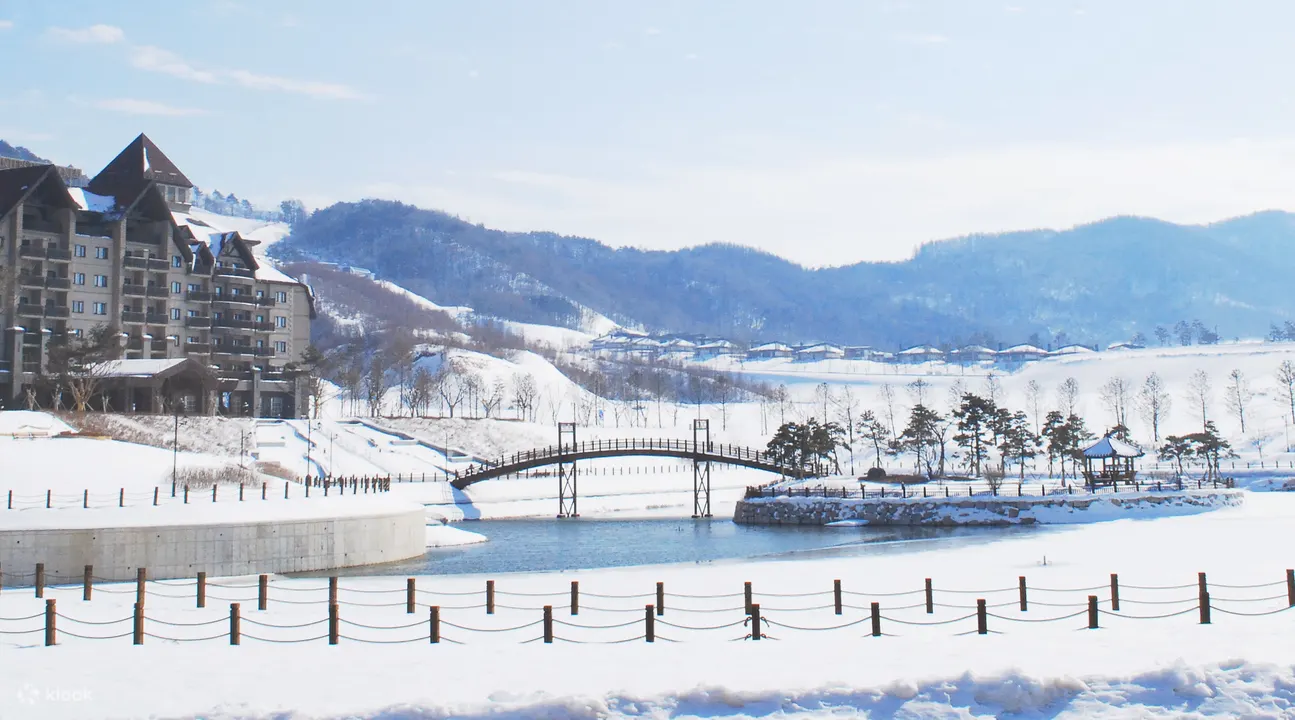 Day 3 - MT. SEORAK - SKI RESORT - SEOUL
Day 3 is a day of exhilaration and adventure. Embark on a memorable Ski Resort Tour at Alpensia Resort, where you'll feel the rush of adrenaline as you glide down the pristine slopes (ski equipment and suits not included). Then, immerse yourself in the magical world of Lotte World, a winter paradise offering thrilling rides and enchanting entertainment, with a free pass ticket to enjoy it all. As the day draws to a close, you'll be transferred to your hotel in Seoul, where comfort awaits.
As Day 4 dawns, embark on a journey of exploration in Seoul. Discover the secrets of Korean skincare at the Ginseng Outlet and indulge in duty-free shopping for top-quality cosmetics. Immerse yourself in the vibrant atmosphere of Sewoon Town, a shooting location of the hit drama "Vincenzo." Marvel at the panoramic views from the N-Seoul Tower's Observatory Deck and take a memorable walk across the iconic Noksapyeong Bridge in Itaewon. Your night will be spent in a stylish hotel, allowing you to rest and rejuvenate.
On your final day, Day 5, indulge in a shopping spree at the Red Pine Shop, Amethyst Factory, and the renowned Shinsegae Duty Free Shop. Experience the rich heritage of Korea as you dress in a Hanbok for a captivating tour of Gyeongbok Palace. Immerse yourself in the vibrant energy of Gwanghwamun Square, and explore the bustling shopping streets of Dongdaemun and Myeongdong. With hearts filled with cherished memories, you'll be transferred to Incheon Airport, bidding a fond farewell to Korea as you head back home.